Create your home.
Our Rocky Mountain locations are a perfect setting for those with an adventurous and entrepreneurial spirit. As one of the top five fastest-growing cities in the nation, Denver is a great place to gather professional experience and jumpstart your career. And our Kennedy Mountain Campus creates balance in a way that few other university campuses can offer.
When you're not studying, you'll have access to Colorado's nearly boundless landscape, full of hiking trails, ski resorts and charming mountain towns. It's all just past your doorstep, and our active communities mean you'll have plenty of friends to join you.
We'll give you the tools; you choose how to use them.
Getting involved and helping the community is really important because it develops that sense of civic identity, so that makes you a lot closer to your community… when you really know what's going on.

Neda Kikhia, Communication Studies and Religious Studies major
A place for everyone
We value the individual perspective of each student—new voices help us learn and grow, and we strive to make sure every voice can be heard. 
The Cultural Center provides a range of programs and services for students, from our Communities of Color seminars to the Latin@ Services office and our annual Diversity Summit. 
And it doesn't stop there: Our students are passionate about creating a welcoming community for all, with organizations like the DU Queer-Straight Alliance striving to make DU a more accepting place for students of all identities. We want to be as diverse as the world we study—add your voice to the mix and help us achieve that goal. Discover more about DU's culture and diversity to see some of the ways you might get involved.
Join Clubs and Organizations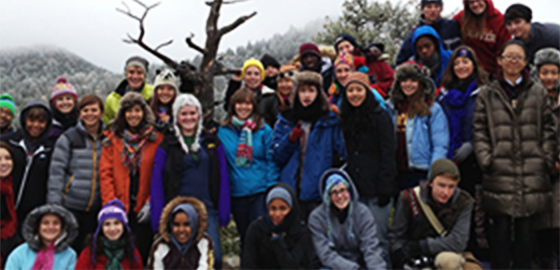 Find your inspiration.
Our Living and Learning Communities are a great way to discover what moves you. You'll live and take classes with with a close group of peers who share your interests. You can tackle social justice issues or learn about sustainability, along with other topics covering a range of academic and social challenges. Explore the options and apply for a community that suits your interests.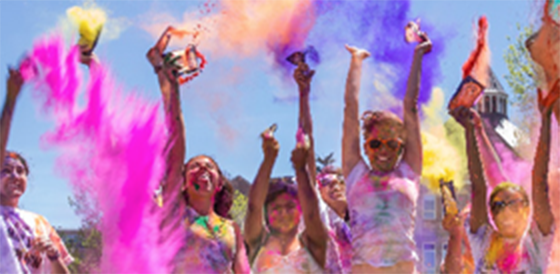 Find your niche.
Get involved and make friends who will last a lifetime through our student-run clubs. Feel free to start your own club, too—no matter your interests, you'll find someone who shares them.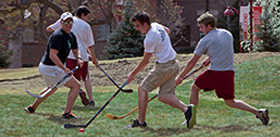 Find your team.
If you're looking to get on the court, we offer 30 club teams and seasonal intramural sports too. Create a team with your friends in anything from ice hockey, soccer, lacrosse, even cycling and figure skating.
Endless exploration. Our campus is minutes from downtown Denver and a short drive from the Rocky Mountains. Our Alpine Club can take you to all the ski resorts, hiking trails and state parks that make Colorado such an incredible place to live.

Dynamic city life. Denver is one of the fastest-growing cities in the nation, with so many galleries, venues and parks, you're sure to be occupied during your time here. Plus, it's a great city for rising professionals, with a growing startup market that will inspire your entrepreneurial spirit.

Just outside your door. Choose from several residence halls seated in a peaceful semi-urban neighborhood, a great environment for living and studying. With the shops, restaurants and bustle of campus activity, you'll never be bored.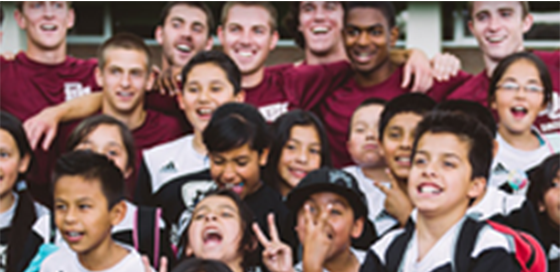 Center for Community Engagement to advance Scholarship and Learning
CCESL is where your passion for doing good meets our belief in learning by experience. Join us and discover how your education can change lives.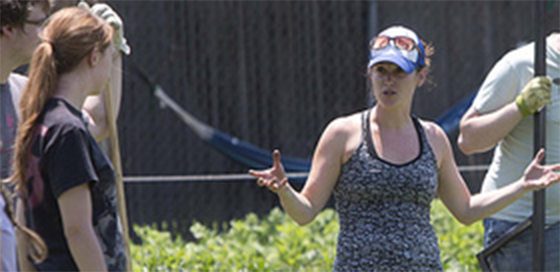 Sustainability at DU
We support an environmentally conscious community. Our students bear that out through sustainability courses, service projects and the Environmental Sustainability Living and Learning Community, where students live together and take classes in responsible energy development and environmental science.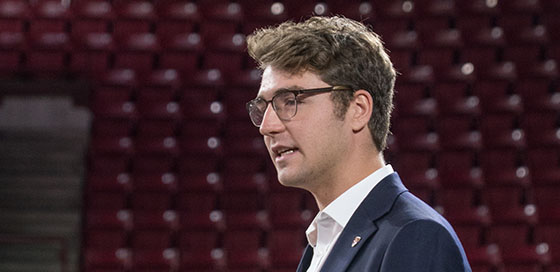 Passionate voices
DU alumni Morgan Smith has interned with all levels of economic policy making - state, federal and even international with his study of social enterprise in Denmark. During his senior year at DU, he turned his focus back to the intersection of the personal and the political right here in Denver with the Interfaith Alliance.